Welcome to the 3rd SNAG meeting!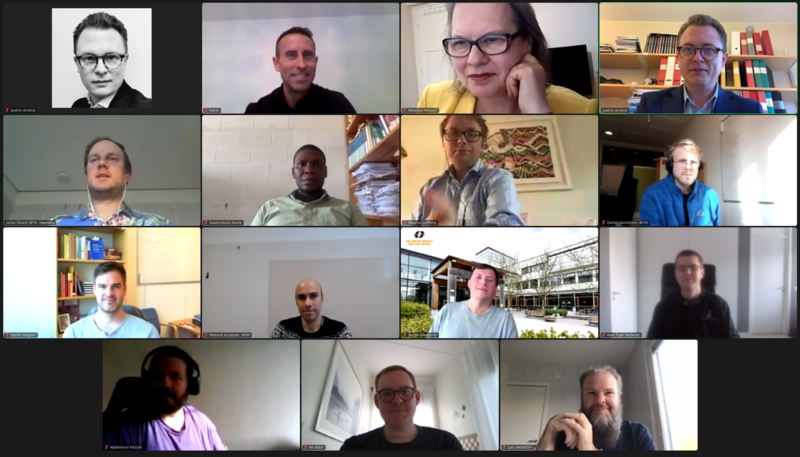 Participants of the 2020 SNAG Workshop
We are happy to announce the third meeting of the Swedish Network for Algebra and Geometry. The purpose of the network is to develop the interaction between mathematicians working in the fields of algebra and geometry at Swedish universities. In particular, we envisage an active participation of PhD students and young researchers with the aim to build networks and encourage collaboration.
Organizers: Joakim Arnlind, Sergei Silvestrov and Johan Öinert.
Venue
The meeting will be held via Zoom on the 24th and 25th of September 2020.
Link to Zoom meeting
Meeting ID: 670 9718 0518
Please email Joakim Arnlind to get the passcode.
Registration
If you would like to participate, please send an email to Joakim Arnlind. Then we can easily provide you with information as well as the invitation and password for the Zoom meeting.
Program
The program can also be seen in the SNAG calendar. Link to .ics file.
(Click on the title below to see the abstract, and to find a link to the presentation.)
Thursday 24 September

09:30 - 10:00

Separability of object unital groupoid graded rings

(Patrik Nystedt)

I will give a short account of the development of the concrete notion of a separable field extension leading to the abstract concept of a separable functor. After that I will describe necessary and sufficient criteria for when object unital groupoid graded rings are separable over their principal component, thereby generalizing previous results from the unital case to a non-unital situation. (pdf)

10:10 - 10:40

Prime nearly epsilon-strongly graded rings

(Daniel Lännström)

Connell's Theorem famously characterizes when the group ring is prime. The class of strongly gr aded rings is a general class of rings that includes the group rings as an important special ca se. This class of rings has been extensively studied and have many connections to e.g. geometry and mathematical physics. Notably, in the 1980s, Passman generalized Connell's Theorem and obt ained a complete characterization of prime unital strongly graded rings. In this talk, I will give an overview of nearly epsilon-strongly graded rings (introduced by Nystedt and Öinert) which generalize strongly graded rings and have an important connection to Leavitt path algebras. I will also outline some recent joint work with Nystedt, Wagner and Öinert which aims to characterize prime nearly epsilon-strongly graded rings by generalizing Passman's result. (pdf)

11:00 - 11:30

Rewriting vs. permutations

(Lars Hellström)

Somewhat simplified, the rewriting approach to (universal) algebra works by converting the given relations to rewrite rules, where one term is singled out and replaced by the equivalent expression in terms of the other terms, and then applying the rewrite rules to reduce any expression to normal form. This approach may run into problems when one term is straight off a permutation of another term, since any rule which changes one of these will then apply also to its own result; a simple example of this arises with anticommutativity in the theory of Lie algebras, since the rule that changes xy to -yx can also change -yx back into -(-xy) = xy, and then we are stuck in a loop. Breaking that loop requires sacrificing other desirable properties of the rewriting machinery, which could drastically increase the number of special cases that need to be checked. This talk reports on a project to adapt the speaker's Generic Framework for Diamond Lemmas to support an unfailing permutation-tolerant rewrite machinery. Though at first sight the conditionality of rules in unfailing completion schemes may seem to be at odds with the fundamental nondeterminism of a Bergman-style diamond lemma, it turns out the many-sortedness of the generic framework can be leveraged to support the necessary conditionality of rules while also providing enough context-independence to enable the usual reduction to critical pairs; the only price one needs to pay is that a critical pair may then need several resolutions to cover all eventualities regarding which rules are available. In at least one important setting, the subproblem of enumerating the cases that need to be checked boils down to solving a bilinear feasibility problem.

11:40 - 12:10

Non-commutative Henselian Rings

(Masood Aryapoor)

Commutative Henselian rings are commutative local rings in which Hensel's lemma holds. In this talk, I will introduce the notion of non-commutative Henselian rings and provide some examples and open problems. (pdf)

13:30 - 14:00

Spectral triples on Cuntz algebras

(Magnus Goffeng)

In Connes' program for noncommutative geometry one describes geometry by means of so called spectral triples, and geometric properties are reinterpreted in terms of spectral data. Recent decades has seen lots of interest in constructing spectral triples, but outside of the classical geometries arising from manifolds there has been a lack of families of topologically nontrivial examples. After a brisk introduction to these ideas, this talk will discuss how to construct spectral triples, i.e. a noncommutative geometry, on the Cuntz algebra O_N. We will briefly indicate how this construction extends to general (finite) graph C*-algebras (even Cuntz-Pimsner algebras) and exhaust their noncommutative algebraic topology. Based on joint work with Bram Mesland.

14:10 - 14:40

Noncommutative Minimal Surfaces

(Joakim Arnlind)

The classical theory of minimal surfaces is a rich and beautiful mathematical subject and is still, after 200 years, under active research. In the context of noncommutative geometry, it is natural to ask if there is a similar theory of noncommutative minimal surfaces? This is an interesting question both from a purely mathematical point of view, but also from a physical point of view as noncommutative/quantum analogues of minimal submanifolds arise as central objects in quantum theories. In this talk, I will present a noncommutative version of the classical Weierstrass theorem, giving a way of explicitly generating a large class of noncommutative minimal surfaces, and construct operator representations solving certain double commutator equations arising in physics. (pdf)

15:00 - 15:30

Twisted connections on projective modules

(Kwalombota Ilwale)

A twisted derivation is a linear map on an algebra satisfying a twisted kind of Leibniz rule. Similarly, on a module, a connection satisfying a kind of twisted Leibniz rule can be considered. Given an associative algebra and a set of twisted derivations on the algebra, a structure consisting of this pair is introduced and the concept of a corresponding left module over such a structure is defined. In this work, we define a twisted connection on the such modules and show that such a twisted connection exists on projective modules. (pdf)

15:40 - 16:10

Finite noncommutative spaces and projective real calculi

(Axel Tiger Norkvist)

In noncommutative geometry one seeks to axiomatize notions in differential geometry so it can be used to study noncommutative algebras. One approach to do this is using a so-called real calculus as a structure to model manifolds and to discuss the existence of a Levi-Civita connection. To use this for noncommutative manifolds it becomes important to understand what constitutes free and projective real calculi, and the connection between these types of structures. This presentation aims to shed some light on this, as well as briefly illustrate what happens when real calculi are used to model finite noncommutative spaces, i.e., matrix algebras. (pdf)

Friday 25 September

09:30 - 10:00

Dr. Jouko Mickelsson Or: How I Learned To Stop Worrying And Love The Gerbe

(Stefan Wagner)

The word "gerbe" is an odd one - it is not a furry little animal, but derives instead from a french word and got absorbed by English language. The Oxford English dictonary gives "something resembling a sheaf of wheat" and this description is, in fact, pretty close to the mathematical meaning of the word. In this talk I will give a brief insight into the theory of gerbes and explain why it is not surprising that the question arises whether there is some sort of object which could be called a "quantum gerbe". (pdf)

10:10 - 10:40

Hom-algebra structures

(Sergei Silvestrov)

In this talk, introduction and some open problems and open directions about hom-algebra structures will be presented with focus on foundations and recent advances on graded (color) quasi Lie algebras, quasi-hom Lie algebras, hom-Lie algebras and related hom-algebra structures. These interesting and rich algebraic structures appear for example when discretizing the differential calculus as well as in constructions of differential calculus on non-commutative spaces. Quasi Lie algebras encompass in a natural way the Lie algebras, Lie superalgebras, color Lie algebras, hom-Lie algebras, q-Lie algebras and various algebras of discrete and twisted vector fields arising for example in connection to algebras of twisted discretized derivations, Ore extension algebras, q-deformed vertex operators structures and q-deferential calculus, multi-parameter deformations of associative and non-associative algebras, one-parameter and multi-parameter deformations of infinite-dimensional Lie algebras of Witt and Virasoro type, multi-parameter families of quadratic and almost quadratic algebras that include for special choices of parameters algebras appearing in non-commutative algebraic geometry, universal enveloping algebras of Lie algebras, Lie superalgebras and color Lie algebras and their deformations. Common unifying feature for all these algebras is appearance of some twisted generalizations of Jacoby identities providing new structures of interest for investigation from the side of associative algebras, non-associative algebras, generalizations of Hopf algebras, non-commutative differential calculi beyond usual differential calculus and generalized quasi-Lie algebra central extensions and Hom-algebra formal deformations and co-homology. Hom-algebra generalizations of Nambu algebras, associative algebras and Lie algebras to n-ary structures are also actively studied and some constructions and results on n-ary hom-Lie algebras will be presented in this talk. Hom-algebra structures have been introduced first in 2003 in the following key initial publications: [1] Hartwig, J. T., Larsson, D., Silvestrov, S. D., Deformations of Lie algebras using σ-derivations, J. Algebra 295, 314—361 (2006). First published as Preprints in Mathematical Sciences 2003:32, LUTFMA-5036-2003, Centre for Mathematical Sciences, Lund University (2003). arxiv.org: math.QA/0408064 [2] Larsson, D., Silvestrov, S. D., Quasi-hom-Lie algebras, central extensions and 2-cocycle-like Identities, J. Algebra, 288, 2, 321-344 (2005). First published as Preprints in Mathematical Sciences 2004:3, LUTFMA-5036-2003, Centre for Mathematical Sciences, Lund University, 40 pp, (2004) [3] Larsson, D., Silvestrov, S. D., Quasi-Lie algebras, in "Noncommutative Geometry and Representation Theory in Mathematical Physics", Contemporary Mathematics, Vol. 391, 241-248 (2005). First published as Preprints in Mathematical Sciences 2004:30, LUTFMA-5036-2003, Centre for Mathematical Sciences, Lund University, 11 pp, (2004) [4] Larsson, D., Silvestrov, S. D., Quasi-deformations of sl2(F) using twisted derivations, Comm. Algebra 35, 4303-4318 (2007). First published as Preprints in Mathematical Sciences 2004:26, LUTFMA-5047-2004, Centre for Mathematical Sciences, Lund University, 19pp, (2004). arxiv.org: math.RA/0506172 [5] Makhlouf, A., Silvestrov, S. D., Hom-algebra structures, J. Gen. Lie Theory. Appl. 2, 2, 51-64 (2008). First published as Preprints in Mathematical Sciences 2006:10, LUTFMA-5074-2006, Centre for Mathematical Sciences, Lund University, 18 pp (2006). arxiv.org/math/0609501v3 (pdf)

11:00 - 11:30

On solvability and nilpotency of n-Hom-Lie algebras

(Abdennour Kitouni)

We generalize the definitions of derived series, central descending series, solvability and nilpotency to the case of n-Lie algebra, the generalization Is based on the work of Kasymov on n-Lie algebras, introducing several different series, namely k-derived series and k-central descending series, where k is between 2 and n. We study the different properties of these series and their interactions with the twisting by a weak morphism. We also show that the k-solvability is a radical property. (pdf)

11:40 - 12:10

When is a group ring a Köthe ring?

(Johan Öinert)

A ring is said to be a left (right) Köthe ring if every left (right) module over that ring decomposes into a direct sum of cyclic modules. The goal of this talk is to attempt to answer the question in the title. Although not complete, we are currently able to answer the question in important special cases. This talk is based on a joint work with Samaneh Baghdari. (pdf)

13:30 - 14:00

Medial and Isospectral Algebras

(Vladimir G. Tkachev)

Algebras with a prescribed Peirce spectrum has been the object of extensive investigation in several contexts including automorphisms of finite simple groups (natural algebras of finite groups, axial algebras etc), combinatorics, quasigroups and differential geometry. I will talk about two new remarkable classes of commutative nonassociative algebras, the so-called isospectral and medial algebras.

14:10 - 14:40

The hom-associative Weyl algebras in prime characteristic

(Per Bäck)

The associative Weyl algebras in prime characteristic are the (evil) cousins of the corresponding algebras in characteristic zero. Although the algebras in different characteristic certainly are blood-related, they turn out to have quite different properties. In this talk, we will first have a look at the associative Weyl algebras in prime characteristic from the point of view of Ore extensions. We will then see how one can extend their definition in a natural way to so-called hom-associative analogues, and look at their properties. This is joint work with Johan Richter. (pdf)

Participants
Joakim Arnlind (Linköping University)
Masood Aryapoor (Mälardalen University)
Per Bäck (Mälardalen University)
Magnus Goffeng (Lund University/LTH)
Kwalombota Ilwale (Linköping University)
Abdennour Kitouni (Mälardalen University)
Lars Hellström (Mälardalen University)
Daniel Lännström (Blekinge Institute of Technology)
Melanija Mitrovic (University of Nis)
Patrik Nystedt (University West)
Johan Richter (Blekinge Institute of Technology)
Sergei Silvestrov (Mälardalen University)
Axel Tiger Norkvist (Linköping University)
Vladimir G. Tkachev (Linköping University)
Stefan Wagner (Blekinge Institute of Technology)
Chia Zargeh (University of Sao Paolo)
Johan Öinert (Blekinge Institute of Technology)